Using Microsoft Excel to Make A Graph Plotting an X-Y Data Set. Suppose we want to plot the volume of hydrochloric acid used vs. The moles of magnesium. The first step in creating a graph using Microsoft Excel is entering the data. The data should be in two adjacent columns with the x data in the left column.
Plot (X,Y) creates a 2-D line plot of the data in Y versus the corresponding values in X. If X and Y are both vectors, then they must have equal length. The plot function plots Y versus X. If X and Y are both matrices, then they must have equal size.
Graph Individual (x,y) Points - powered by WebMath. The most basic plotting skill it to be able to plot x,y points. This page will help you to do that.

Here is the graphics program that can display graph by taking two sets of Y values and X values are common for the both.

Source Code
#include<stdio.h>
#include<string.h>
#include<graphics.h>
#include<stdlib.h>
#include<conio.h>
#include<bios.h>
#include<math.h>
#include<iostream.h>
double yarr1[] = {
251.97, 247.64, 249.10, 251.79, 250.19, 259.41, 261.75,
260.09, 261.70, 262.98, 261.93, 261.85, 257.25, 258.11,
260.96, 264.08, 259.28, 259.94, 259.02, 254.24, 251.89,
245.58, 249.90, 251.45, 252.73, 251.80, 257.28, 259.62,
258.09, 258.66, 248.63, 246.94, 246.94, 248.48, 251.53,
256.17, 268.30, 266.70, 269.00, 270.97, 273.85, 270.17,
274.07, 271.87, 267.25, 259.69, 254.28, 253.51, 250.51,
243.20, 249.33, 250.94, 255.96, 263.12, 263.95, 260.83,
256.88, 256.88, 253.35, 244.11, 245.22, 246.76, 242.32,
237.76, 248.34, 252.36, 254.22, 253.82, 258.36, 262.09,
256.52, 253.99, 235.86, 246.25, 255.98, 258.68, 266.35,
261.09, 268.64, 261.60, 262.04, 269.50, 270.83, 266.47,
259.22, 244.59, 247.07, 247.40, 248.92, 245.69, 242.43,
242.29, 241.79, 239.95, 240.60, 239.54, 238.49, 235.97,
235.97, 235.00
What is 1 square meter equal to. };
double yarr2[] = {
51.29, 50.71, 49.74, 50.31, 49.08, 50.37, 50.19, 50.17, 49.69, 49.62, 48.32, 48.05, 48.22, 47.68, 47.39, 47.09, 48.89, 49.21, 49.16, 48.18, 48.55, 47.53, 48.54, 50.17, 50.26, 50.39, 50.15, 50.48, 49.38, 49.99, 48.91, 49.58, 49.58, 49.62, 51.96, 51.98, 53.40, 53.88, 52.18, 52.45, 52.14, 52.52, 54.06, 52.96, 51.66, 51.17, 49.90, 50.79, 50.66, 50.20, 50.72, 50.19, 48.82, 49.83, 50.67, 49.81, 49.86, 49.86, 50.18, 48.99, 48.94, 47.64, 47.21, 47.05, 49.45, 51.49, 51.87, 53.15, 52.66, 53.43, 53.60, 50.14, 49.13, 49.94, 49.24, 49.66, 49.88, 50.51, 50.31, 49.70, 48.28, 48.13, 48.21, 47.36, 46.98, 46.46, 46.59, 46.65, 47.57, 48.09,
47.75, 48.14, 48.68, 48.19, 48.18, 46.81, 46.90, 46.40, 46.40, 47.41
};
staticconstint LTMARGIN = 100;
staticconstint TPMARGIN = 50;
struct XYScatterGraph
{
char yinfo[128];
int color;
int points;
double xpoints[1000];
double ypoints[1000];
double dataxmin;
double dataxmax;
double dataymin;
double dataymax;
double xlen;
double ylen;
XYScatterGraph() { }
XYScatterGraph(constchar *yin, int c, int numpoints);
void FillPoints(double *yarr, int len);
void Draw();
void DrawGrid(int index = 1);
};
XYScatterGraph::XYScatterGraph(constchar *yin, int c, int numpoints)
{
if(numpoints > 1000)
numpoints = 1000;
strcpy(yinfo, yin);
Plot My Graph Online
points = numpoints;
color = c;
for(int i = 0; i < 1000; i++)
{
xpoints[i] = 0.0;
ypoints[i] = 0.0;
}
dataxmin = 1000000;
dataxmax = -1000000;
dataymin = 1000000;
dataymax = -1000000;
xlen = 0;
ylen = 0;
}
void XYScatterGraph::FillPoints(double *yarr, int len)
{
for(int i = 0; i < len; i++)
{
if(i > points)
break;
xpoints[i] = i + 1;
ypoints[i] = yarr[i];
if(dataymin > ypoints[i])
dataymin = ypoints[i];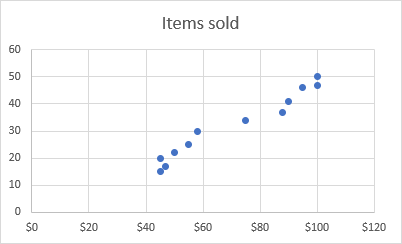 if(dataymax < ypoints[i])
dataymax = ypoints[i];
if(dataxmin > xpoints[i])
dataxmin = xpoints[i];
if(dataxmax < xpoints[i])
dataxmax = xpoints[i];
}
xlen = dataxmax - dataxmin;
ylen = dataymax - dataymin;
//dataxmax = dataxmax + xlen / 75.0;
//dataxmin = dataxmin - xlen / 75.0;
dataymax = dataymax + xlen / 75.0;
dataymin = dataymin - xlen / 75.0;
xlen = dataxmax - dataxmin;
ylen = dataymax - dataymin;
/*
cout << dataxmin << 'n';
cout << dataxmax << 'n';
cout << xlen << 'n';
cout << dataymin << 'n';
cout << dataymax << 'n';
cout << ylen << 'nn';
*/
}
void XYScatterGraph::DrawGrid(int index)
{
int xmax = getmaxx() - LTMARGIN * 2;
int ymax = getmaxy() - TPMARGIN * 2;
setcolor(WHITE);
rectangle(LTMARGIN,TPMARGIN,LTMARGIN + xmax, TPMARGIN + ymax);
//setfillstyle(WIDE_DOT_FILL, WHITE);
setlinestyle(DOTTED_LINE, 1, 1);
double xstart = dataxmin;
double ystart = dataymax;
for(int i = 0; i <= 10; i++)
{
double ypos = TPMARGIN + (i / 10.0 * ymax);
double xpos = LTMARGIN + (i / 10.0 * xmax);
if( i != 10)
line(LTMARGIN, ypos, LTMARGIN + xmax, ypos);
line(xpos, TPMARGIN, xpos, TPMARGIN + ymax);
xstart = dataxmin + (i) * xlen / 10;
ystart = dataymax - (i) * ylen / 10;
char buf[128];
if(i 0)
xstart = 0;
sprintf(buf, '%3.1lf', xstart);
if( (i % 2) 0)
outtextxy(xpos - 10, TPMARGIN + ymax + 10, buf);
else
outtextxy(xpos - 10, TPMARGIN + ymax + 30, buf);
sprintf(buf, '%5.1lf', ystart);
if(index 1)
outtextxy(LTMARGIN - 50, ypos - 5, buf);
else
outtextxy(LTMARGIN + xmax + 10 , ypos - 5, buf);
}
}
void XYScatterGraph::Draw()
{
int xmax = getmaxx() - LTMARGIN * 2;
int ymax = getmaxy() - TPMARGIN * 2;
int xold = 0;
int yold = 0;
setcolor(color);
setlinestyle(SOLID_LINE, 1, 1);
for(int j = 0; j < points; j++)
{
int xpos = LTMARGIN + (xpoints[j] - dataxmin) / xlen * xmax;
int bottom = 480;
int ypos = bottom - TPMARGIN - (ypoints[j] - dataymin) / ylen * ymax;
//cout << xpos << 't' << ypos << 'n';
if(j > 0)
line(xold, yold, xpos, ypos);
xold = xpos;
yold = ypos;
}
}
void main()
{
int grd, grm;
detectgraph(&grd,&grm);
initgraph(&grd, &grm, ');
setbkcolor(BLACK);
int xmax = getmaxx() - LTMARGIN * 2;
int ymax = getmaxy() - TPMARGIN * 2;
XYScatterGraph myGraph1('Y', YELLOW, 100);
Make An Xy Graph
myGraph1.FillPoints(yarr1, 100);
myGraph1.DrawGrid(1);
How To Plot Xy Graph In Excel
myGraph1.Draw();
Axis Graph Maker
XYScatterGraph myGraph2('Y', LIGHTBLUE, 100);
myGraph2.FillPoints(yarr2, 100);
myGraph2.DrawGrid(2);
Plot Xy Graph Labview
myGraph2.Draw();
getch();
closegraph();
}
Output